A town proud of its maritime heritage…..
Whitstable Maritime invites everyone to come and share in the fun of Harbour Day on 11th August as the town celebrates its connections with the sea, past, present and future.
From 10.30 in the morning, the harbour quays will be packed with stalls, there is a full day's programme of live music and drama on the stage, and craft old and new will be mooring in the basin. Over 250 volunteers will be helping visitors enjoy this annual maritime festival – and it is all free!
Visitors will be able to clamber aboard the Border Force cutter, the In-shore Fisheries patrol boat, a cargo vessel, and the lifeboat. Barges and smacks, some over a hundred years old, will race against each other off-shore before returning to harbour.
The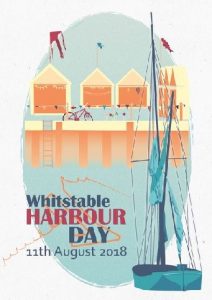 stalls will reflect local maritime themes: from sea-food to family histories; from plastic pollu-tion to sea-defences; from sea-rescue to coastal walks; from boat-restoration to harbour rail-ways; from marine archaeology to coastal gardening; from marine conservation to yatching.
Children of all ages will be able to navigate beautiful radio-controlled models of many of the local craft in a large pool and try their hand at rope-making before riding along the quay on a small-scale steam engine.
Resident traders will be providing a range of food and drinks as well as gifts and collectables and local artists will offer everyone an opportunity to be creative.
It is truly a great day out for the family.