The Victorian Society photographic exhibition Saving a Century, curated by noted architectural historian Gavin Stamp, will be on show, free of charge, at A W Pugin's St Augustine's Church, St Augustine's Rd, Ramsgate, Kent, CT11 9PA, from 1 – 31 August, 10.00 – 4.00 daily.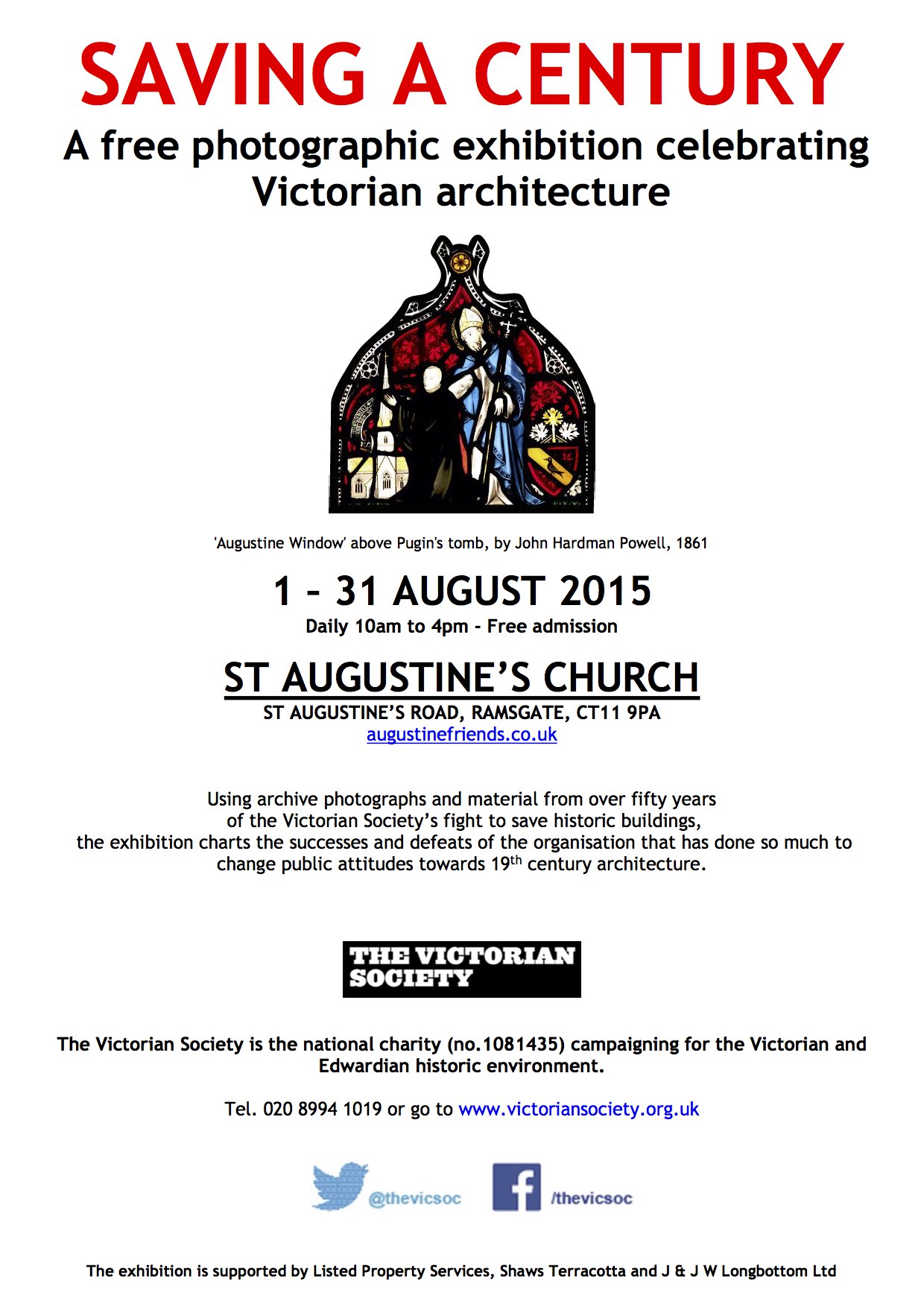 The Victorian Society is the national charity campaigning for the Victorian and Edwardian historic environment. It fights to preserve important Victorian and Edwardian buildings and landscapes so that they can be enjoyed by this and future generations. It provides expert advice to churches and local planning authorities on how Victorian and Edwardian buildings and landscapes can be adapted to the way we live now, while keeping what is special about them. It also advises members of the public about how they can help shape the future of their local Victorian and Edwardian buildings and landscapes. It provides information to owners of Victorian and Edwardian houses about how they can better look after their precious buildings. It helps people understand, appreciate and enjoy the architectural heritage of the Victorian and Edwardian period through its publications and educational programmes.
The Victorian Society, 1 Priory Gardens, LONDON W4 1TT Telephone 020 8994 1019
The Victorian Society is a Registered Charity No. 1081435 and a Company Limited by Guarantee. Registered in England No. 3940996.
Patron: HRH The Duke of Gloucester KG, GCVO Life President: The Lord Briggs
Vice Presidents:
Sir David Cannadine, Harry Handelsman, The Lord Howarth of Newport CBE, Sir Simon Jenkins, Griff Rhys Jones, Fiona MacCarthy OBE
SAVING A CENTURY
EXHIBITION CONTENTS
VICTORIAN BUILDINGS LOST BEFORE 1958 – A photographic survey of some of the best Victorian buildings destroyed in the first half of the twentieth century, among them Crystal Palace (burnt down 30th November 1936), Trentham Hall, Staffordshire (abandoned by the 4th Duke of Sutherland in 1906 and demolished five years later) and Queen's Park Church, Glasgow (Scotland's worst architectural loss of the Second World War).
THE FOUNDATION OF THE VICTORIAN SOCIETY – Photographs and material from the opening meetings of the Society. Early members included architect Hugh Casson, architectural historian Christopher Hussey, Sir Nikolaus Pevsner and Sir John Betjeman.
THE EUSTON MURDER AND OTHER CASES – Photographs and text documenting the bitter battle for the Euston Arch, as well some of the Victorian Society's other early defeats. There were early victories too, among them the Oxford University Museum, proposed for demolition in 1961 to make way for new science buildings. The Victorian Society also succeeded in getting the Broad Street Building of Balliol College listed, after it was threatened with a re-build in 1963.
VICTORY IN WHITEHALL – Photographs charting the heroic, ten-year campaign against plans to demolish much of the historic square mile, including nearly every building south of Downing Street and Richmond Terrace. Sir George Gilbert Scott's Foreign Office, Richard Norman Shaw's New Scotland Yard and Middlesex Guildhall in Parliament Square were among the buildings proposed for demolition.
PLACES OF WORSHIP – A photographic survey of some of the historic churches, chapels and synagogues with which the Victorian Society has been involved. As churches are exempt from the secular planning system, it can be particularly difficult to guard them against insensitive change. With falling attendance figures and a growing number of redundant places of worship, the future of our best churches is one of the biggest challenges facing heritage campaigners today.
RAILWAY BUILDINGS – Photographs of some of the key buildings the Victorian Society fought for, as the closure of many branch and other railway lines resulted in the redundancy of numerous stations, bridges and viaducts. That many pioneering and magnificent railway structures, such as St Pancras Station, survive today, often still in use, is very much owing to the efforts of the Society.
IRON, GLASS & STONE – Photographs of some of the most innovative nineteenth century buildings, among them Clevedon Pier, Islington's Royal Agricultural Hall and Bradford's Kirkgate Market, for which the Victorian Society has fought.
THE FUNCTIONAL TRADITION – Photographs of some of the most impressive industrial buildings for which the Society has fought. With the decline of the traditional industries of the North of England after the Second World War, many mills and warehouses became redundant while many Northern towns and cities became ashamed of their Victorian industrial legacy and anxious to replace it with something new. The Victorian Society, along with bodies such as SAVE Britain's Heritage, argued that nineteenth century industrial buildings were evocative and substantial structures which were not only of historical importance but capable of gainful re-use.
THE PURPLE OF COMMERCE – Photographs of some of the most significant Victorian commercial buildings to have come under threat in the last fifty years. Built partly as self-advertisements and partly to inspire confidence, these ambitious and substantial banks, offices and warehouses too often fall victim to redevelopment schemes.
COUNTRY HOUSES – Photographs of some of the grandest country houses to have been the subject of Victorian Society campaigns, among them Shadwell Park, Tyntesfield and Highcliffe Castle. Rendered redundant by social and cultural changes, some of the most famous large houses were demolished between the wars while many more disappeared in the 1950s.
DOMESTIC ARCHITECTURE – A collection of photographs of some of the Victorian villas and terraced houses for which the Victorian Society has fought. Often extravagant and fanciful buildings, these buildings are regularly demolished to allow higher density developments in their grounds or make way for flats.
PUBLIC INSTITUTIONS – A photographic survey of some of the best municipal buildings that have been saved or lost. Physical embodiments of the Victorians' strong sense of civic pride and duty, many of these splendid town halls, libraries, swimming pools, museums, art galleries and post offices still add much to the rich character of British towns and cities today.
BEACONS OF THE FUTURE – A survey of some of the Society's most recent campaigns, focusing on the battle for Victorian schools and swimming pools. Among the battles highlighted are the protest and funeral for Bonner School, the Public Inquiry for Easington Colliery School and the local campaign for the Moseley Road Baths in Birmingham.
THE VICTORIANS VICTORIOUS – Photographs of some of the most notable Victorian buildings used and valued today.